Wednesday, October 18, 2006
Dustin Grella at Square Records
Come check out the art of amazing
Dustin Grella at Square Records Saturday night
.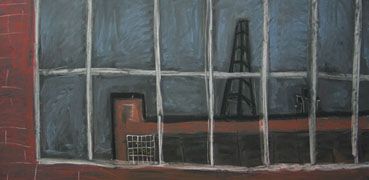 From the artist:
I have a show coming up on Saturday 10/21 from 7-9
at Square Records in Highland Square.
I'll be showing about ten of the animations
and hang four of the slates.
The work will remain up until November 10.
Here is a link to preview some of the work.
http://www.dustingrella.com/squarerecords.html
I also have show at
summitart space
that opens on January 26.
i'll have a schlew of new animation
as well as some new artwork.
please mark you calendars now.
thanks,
dusty
Saturday, October 14, 2006
Congratulations To
The Firestone High School Lady Falcons Volleyball team.
City Champs.
12-0 in the city, and toyed with Ellet in the
Championship Game
.
Note to Coach Wallis of Ellet: Unlike what you might have read in the Beacon Journal article linked above, 12-0 teams are expected to win against 8-4 teams. Claiming that your team "played poorly" is only to insult to your team, which had a good season. Firestone was 3-0 against your team this year, and was 12-0 in the City.
You can either give credit where credit is due ('they played great all year, and, while we made a game of it, they beat us, and we'll get'em next year'), or blame your team ('we played poorly' ).
'We played poorly'.
Translation: my team choked. We wuz robbed. We should have own, but my girls folded like a cheap accordion – just like they did in the first two matches.".
That's what "we played poorly" after going 0-3 against another team says.